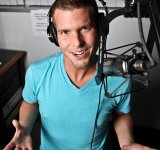 Zakk
Facebook | Twitter | Instagram | Contact
15 Things You Don't Know About Zakk:

1. He grew up in a town of 858 people and about 1,000 cornfields.
2. He was born and raised in the town of Royal Center, IN.
3. Pokemon was his childhood obsession.
4. He was not a "jock" in high school, but he could swim like a fish.
5. He was the drum major of the marching band.
6. After graduating high school, Zakk and the cornfields had a falling out so he moved to Indianapolis and attended college at IUPUI.
7. His friends would tell you he's really a child in an adult body (we second that.)
8. On Friday and Saturday nights you're most likely to find him jumping around like a fool.
9. He secretly wishes he played for the Indianapolis Colts.
10. He can walk on his hands for days.
11. He's a signed model (we wish we were joking) and he credits Zoolander for his success.
12. His favorite show is Breaking Bad because he enjoys watching people kill each other over senseless drugs.
13. He's a Michael Jackson fan with a mean "Beat It" rendition.
14. From time to time he lives vicariously through his favorite movie, The Hangover.
15. He once conned Alec Baldwin into a television interview.
On-Air Schedule
Monday
03:00pm - 07:00pm
The Afternoon Juice
Tuesday
03:00pm - 07:00pm
The Afternoon Juice
Wednesday
03:00pm - 07:00pm
The Afternoon Juice
Thursday
03:00pm - 07:00pm
The Afternoon Juice
Friday
03:00pm - 07:00pm
The Afternoon Juice